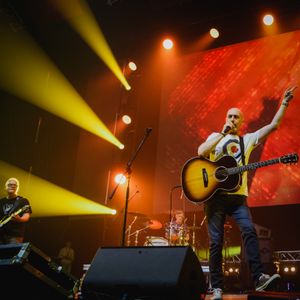 The first time heard this song, I fell in love with it. I played it all day, to get the chords and melody memorised and then in the evening, used it in an event where I was leading worship. It became a regular part of my setlist and I recorded a version of it on my album "Calling All Nations" in 1999.
This live version of the song was recorded by my regular band, but I cannot remember the actual event where it was recorded.
The following is the story of how Brian Doerksen came to write it. I found it at songfacts.com
This is Doerksen's best known song, which came at the end of the darkest and lowest season of his life in the summer of 1997. He recalled the story of the song during an interview with The St. Augustine Record: "Our family had moved to England, and I became the Worship Pastor of Southwest London Vineyard, meeting in the Elliot School. I had no other place to live and no other job offers. I felt as if I were barely hanging onto my faith in God." 
"My wife and I were severely tested when we heard from those in the medical profession that two of our six children had a condition called Fragile X Syndrome, a form of mental retardation. I remember looking at one of our small children and thinking, 'He will need personal care for the rest of his life.'" 
"One morning, within months of moving to London, I went for an exercise/prayer walk, as I often did. I walked just to clear my head, to pray, to give my day to God, and to pour out some of my pain and my dreams. As I was walking through southwest London, very close to Wimbledon Stadium, I heard a message floating through the air. It was as clear as a bell, 'Come, now is the time to worship.' I thought, WOW!, the call to worship is being sounded all of the time and in all kinds of ways. God is reaching out to his creation, inviting us to come, to do the very thing we were created to do." 
"When I got home I ran upstairs and sat down at the piano. I began playing the song over and over again. I said to myself, 'What is this song? What is this call that is going out?'" 
"Within weeks of teaching the song to our church congregation, I began hearing reports of other churches singing it. After a few months, I began to hear reports of the song being sung in other countries. Soon the success of 'Come, Now Is the Time to Worship' blessed our family by allowing us to move back home to Canada, to the house in which I was raised."
Click on the image to play the live version of the song on Spotify
Click on the site wide player to hear the studio version.