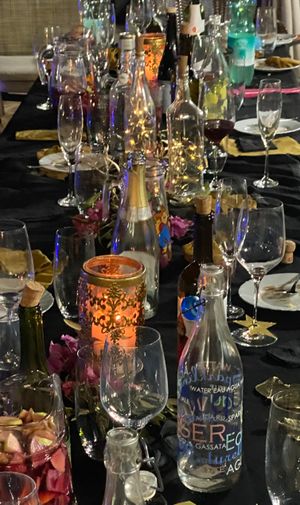 As a singer/songwriter, I have been privileged to travel to so many different nations and cultures. I have visited some beautiful places both man-made and natural. However, my favourite place in the whole world, is sitting around a table with friends and family. The conversations, the laughter (and sometimes tears), the food and drink, create a symphony of pleasure and delight to the senses. 
Last night, here in Mallorca, we gathered around my 'favourite place' with family and friends, to celebrate the 90th birthday of a much loved man. 
His wife wanted it to be a very special occasion and requested that we all dress up for the event. It was the hottest summer day this year, in Mallorca, with temperatures that had nudged 40ºC. And yet here we were, all 'dressed up to the nines'; the men in shirts, ties and long trousers and the women in glittering party dresses and ballgowns. 
There were sixteen of us gathered around the table in the garden of our friends' home, to mark this milestone in someone's life. 
The table groaned under the weight of the fabulous party food, jugs of Sangria and bottles of wine.  
We sang Happy Birthday in Spanish and English and then as had been requested, I sang a couple of songs for the 'birthday boy'. 
He is a lover of God and one of his favourite songs is 'You laid aside your majesty". So I sang this for him and then, since he is Welsh (as am I), I sang 'Here is love vast as the ocean' in both English and Welsh.  
It was a very lovely moment, sitting under the stars with people we have grown to love, singing a song that gives a context to that love. 
Conversations were in Spanish, Mallorquin, English and a smattering of Welsh. What a wonderful mixture. 
As I looked at the table, at the end of the evening, I was struck by the artistic beauty of it all. The glittering candles, the abundance of bottles and glasses, the colours, the shapes and the textures.  
To me it is a priceless work of art. An accidental masterpiece. 
I think we created a beautiful lasting memory for our friend and so much more last night, as we filled a garden with laughter, love and music.