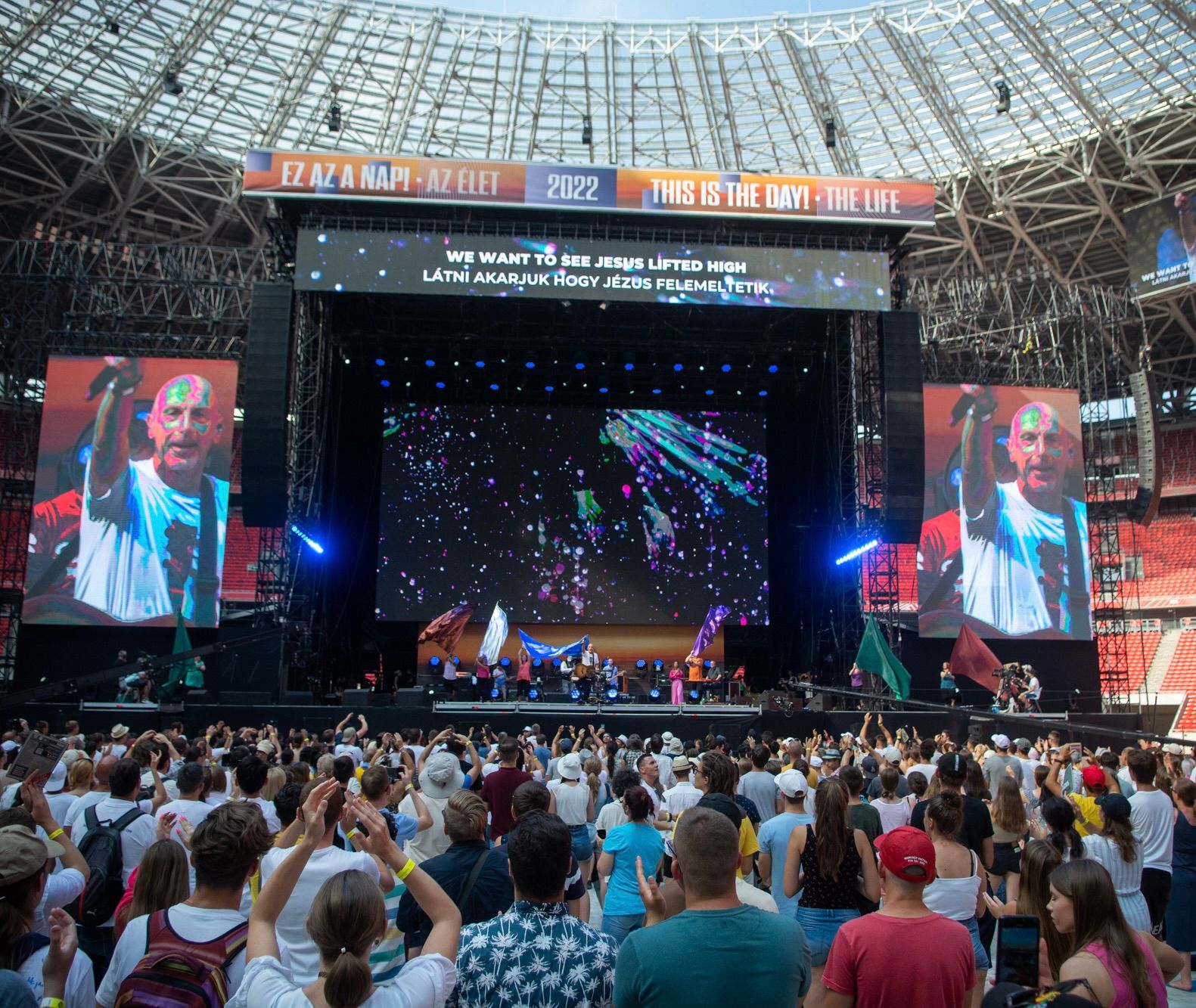 Many of you reading this blog, have followed our journey from 'Champion of the World' at Wembley Stadium in 1997, to the present day. We have appreciated your continued interest in what we do and the encouraging messages you send us from time to time. 
It was on the day of the Wembley Stadium event that some friends in our church gave us a letter, encouraging us to think of other stadiums around Europe; where thousands could gather for worship. The letter mentioned the cities of Berlin, Budapest and Barcelona. 
That letter caused us to embark on a journey that has taken us via a worship event at the Olympic Stadium, Berlin, to a worship gathering for 40,000 people at the brand new national stadium in Budapest on Saturday 23rd July. 
'The sporting coliseums of this world are not just for 
football. They are for the last big breath of God' - Lester Sumrall 
These words went through our minds on the evening of that day, while watching 40,000 people led in worship by Pintér Béla – one of Hungary's best known Christian singer/songwriters. For us, stadiums are the cathedrals of praise and the sound of thousands of voices joined together in worship, is wonderfully inspiring and moving. 
This is the video of that moment and it is wonderful to hear the stadium resounding with this sound.
Béla was one of many Hungarian worship leaders featured in an eight hour programme of worship, prayer and teaching at this iconic venue. Supporting artists came from neighbouring nations, the UK, USA and Australia.
They included – Michael W Smith, Bethel Music, London Community Gospel Choir, Noel Robinson, Graham Kendrick, Tim Hughes & Gas Street, Martin Smith, and of course Noel and his band. 
The event was called Ez Az A Nap 2022 (This Is The Day 2022) and was planned as an international worship gathering. Though the majority of the audience was Hungarian, with six specially chartered trains transporting people from twenty four cities in the country; a fleet of 200 buses brought people from eight neighbouring countries. A huge logistical undertaking. 
The event was also truly ecumenical, with participants and attendees drawn from many Christian streams and denominations. A great achievement. 
The vision for this event was the culmination of a 25 year journey that began when Viktor László, a Budapest entrepreneur saw the video of 'Champion of the World' at Wembley Stadium in 1997. It birthed a vision in him to see a gathering like that take place at the national stadium in Budapest. 
Through a mutual friend, Noel met up with Viktor in Budapest, in April 1998 and with a few friends, they prayed together at the old national stadium there.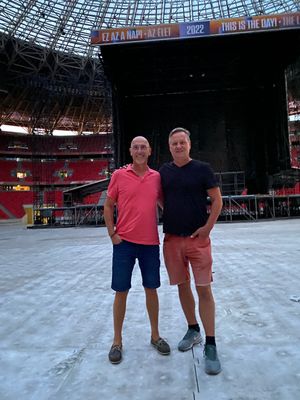 Noel & Viktor in the stadium
Thus began a journey that none of us imagined would take all these years to complete.  
Since 2001, Viktor and his team have been building towards this, organizing dozens of worship events. They began in the early years of the millennium with outdoor events in Budapest, gathering in places like Tabán, Margaret island, Kisstadion, Népstadion park, and Heroes' Square.  In 2010, they moved their events inside, into the Papp László Arena with a capacity of 10,000 people. 
Over these years, Viktor has invited internationally known worship leaders and teams to participate and they have become his friends.  
In 2019, the brand new national stadium - Puskás Aréna – was completed on the site of the old stadium and plans began in earnest to stage the event in the summer of 2020. 
In the latter part of 2019 and early 2020, Noel participated in the promotional 'Roadshow', that visited major cities in Hungary, Ukraine, Romania, Austria, Slovenia, Serbia and Croatia. More than 30,000 attended these events which built a great momentum for 2020 at the stadium. By March of that year they had sold 20,000 tickets. 
Then came Covid 19! 
The event was postponed and a provisional date pencilled in for 2021 which in the light of the ongoing pandemic was postponed yet again. 
At the start of this year, Viktor and his team began to promote a new date - 23rd July. With war in Ukraine breaking out in February, there was the possibility of yet another postponement. Yet in spite of this they continued to work tirelessly to re-build the momentum that had been lost; and slowly, the ticket sales began to pick up. 
In a nation with a population of around 10 million people, it is truly remarkable to gather 40,000 people for worship in it's national stadium. So this event has generated interest within the general population, the business community and the government. Everywhere you looked there was advertising for the event – on billboards and public transport. On Sunday evening following the event, the main TV channel carried a report about it and an interview with Viktor.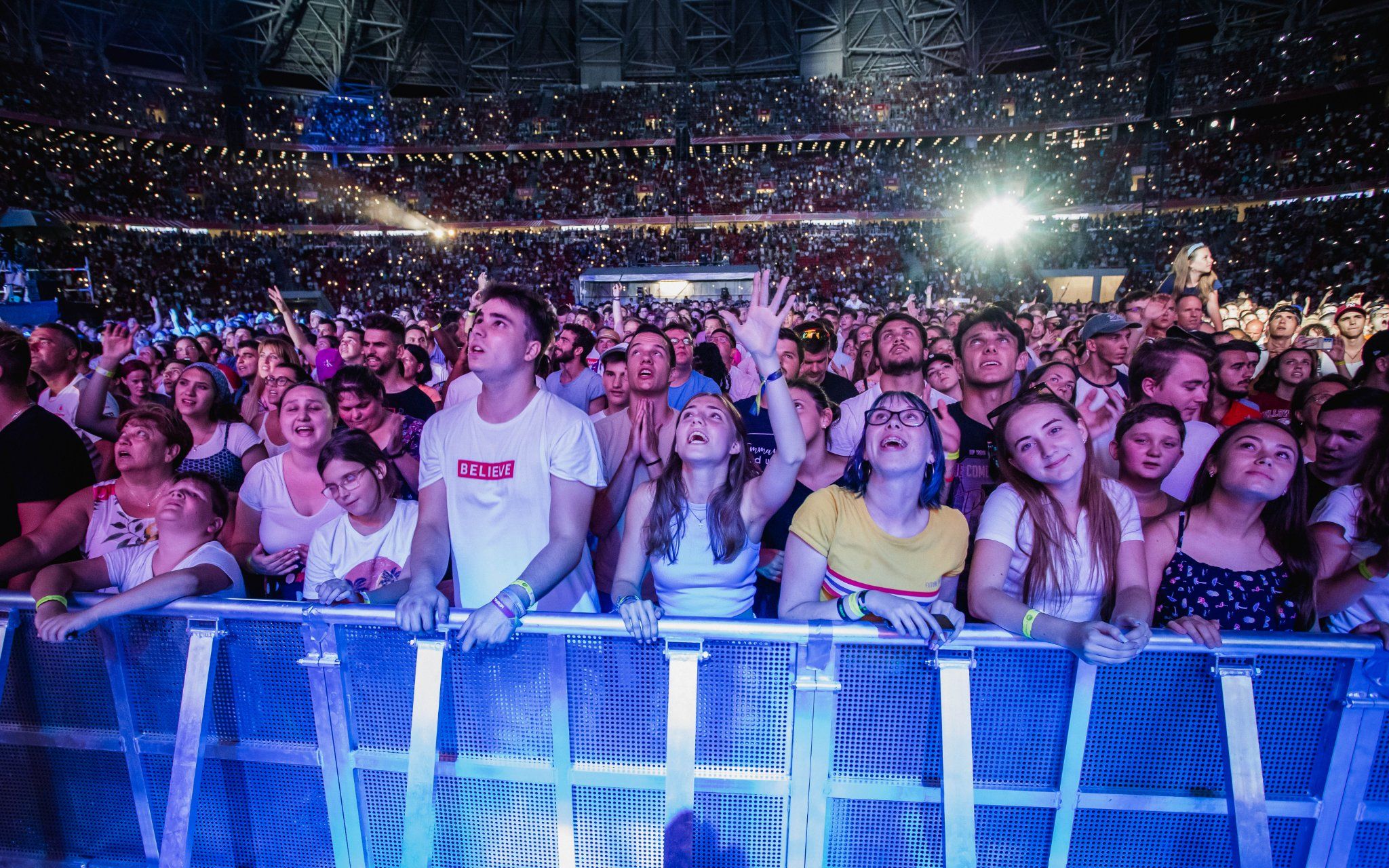 The stadium by night.
These events might not change the world, but they change the worlds of those who attend them. We believe that a vast majority of those who attended Ez Az A Nap 2022, left the stadium with desire in their hearts to further the Kingdom of Heaven in the villages, towns, cities and nations where they live. Who knows what fruit will be seen, as they pursue the dreams and visions that were planted last Saturday. 
As they do so, they will be following the example of Viktor László. A businessman with a Kingdom heart, who carried faithfully for 25 years, the dream God gave him. 
It has been a joy to work alongside Viktor all these years, simply being a friend and encourager to him and the team. 
Who knows where the journey will take us from here. 
Saturday 23rd July marked the end of a season for us and now we wait to see what the next season will bring.